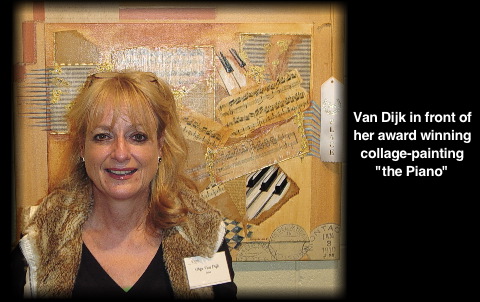 ARTIST STATEMENT

"The desire to create is a gift"
After living in so many different countries, I have settled back in the beautiful rolling hills of Pennsylvania (USA)
I had the wonderful chance to live in the Netherlands (where I was born and raised) , Italy, Switzerland, Germany and in several different States in the USA. I have traveled extensively and cherish all my wonderful travels.
I love to paint our colourful memories from the wonderful places we have visited.

I enjoy abstraction and figurative art, with a strong emphasis on colors, graphic elements and bold shapes. I provide a wide array of works using different approaches in an experimental and creative mode.
Working with a variety of materials is my joy, such as watercolors, acrylics, oil paint and mixed media for my collage artworks.
The strength of my compositions comes from contrasts: light against dark, warm against cool, rough against smooth.
I paint with vivid colors and strong value, and I am well known for my colorful paintings.
My tools are: brushes, pallet knifes, sponges and often my two hands. To create structure I apply combined techniques.

My inspiration can come from everything. I like to create what I see behind my eyes.
Changing subjects keeps me inspired, such as working on bright colored flowers or on a variety of the New York skylines, on harbors and sailingboats or realistic portraits, but also on abstract collage/paintings in a variety of dimensions.
In my early works I was still inspired by other artists; it is often deeper, but my later art became brighter and more cheerful. I have noticed my own style is getting more and more characteristic.
I like it if someone perceives a deeper message and I am always glad if the viewer sees his/her own story. Nevertheless the titles of my artworks guide you to what I see in my artwork.

I love to work on large collages too.
I was awarded the 3rd price for her collage 'the Piano' at the Creative Center for the Arts , CCArts, Yorklyn (DE) in the United States. (See picture)
I love teaching young but also older students.
Teaching art at the University of Delaware is important to me.
The art of painting is an inspiring activity that engenders joy, satisfaction, and pride for the teacher and students, tantalizing them with fresh insights, and sustaining them with the knowledge and courage to become the truly outstanding artist we aspire to be.

I am proud to serve you and will work hard to earn your business. 

Please feel free to contact me about my art, sale of my artwork, and exhibits.
I am an excellent home decorator too. Invite her for commissioned artwork, fitting your home interior.

My artwork is in private collections in the United States and in Europe.

Would you have exhibit space available?
Don't hesitate to contact me!
SAFE INTERNATIONAL SHIPMENT.

My artwork is in private collections in the United States and in Europe.